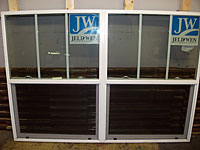 Sample of a bone pile window

Our 'bone pile' window exchange is a mix of windows and doors that we collect from builders. The items were either ordered for a project but then were not needed or were taken off the job list by the client or builder. Or, they were items that we used as samples for our showroom.

We have a variety of items that come and go on a regular basis and are available for purchase directly from Mountain Window Specialties.

Give us a call at 303.252.1069 to find out what is available at any given time.