"Why are you priced lower than your competitors?"
We keeps things simple with a warehouse/showroom, delivery truck and a home office. This allows us to have a lower-than-normal overhead compared to most businesses in our industry. We in turn can sell our products to our customers at lower prices.

"What sets you apart from other distributors?"
In addition to our lower prices, we offer what most distributors don't…..outstanding service. We take pride in our products and our work, and the only way to keep that pride is to provide the customer with free service, even years after the manufacturer will. If you ask any of our customers, they will tell you that no one services products like we do.

"As a homeowner, should I hire a contractor for my window replacement?"
No, if your home project involves window replacement only, the most economical decision would be to go directly through us. We will measure, order, and install your new windows without the mark-up you would be required to pay with a contractor. And, in most cases our workmanship will be better because windows and doors is all that we do, and what we know best.

"I am unsure of what brand, type, and accessories I want in a window, how do I decide?"
You can make an appointment with us at our showroom and we will chat with you about the vast variety of options available. We can show you samples for each of our product lines as well as colors, accessories, and any other details related to what you might have in mind. When deciding on a brand, we recommend you look at every featured option you may need, and therefore which supplier is right for you. When choosing a distributor, we urge you to look at what the distributor can offer in service as well as their ability to take care of any problems that could arise.
"How do I decide between vinyl or fiberglass for my windows?"
Depending on the brand and line, vinyl and fiberglass products are both considered to be durable. Fiberglass is known for occasionally developing weak spots, where vinyl is more consistent throughout the product. Both can be painted (factory paint is recommended), and both hold the color fairly well. Many people tend to think fiberglass is much more efficient than vinyl. This is true for fiberglass insulation because the insulation has air "voids" which helps with the overall efficiency. In windows however, the fiberglass is woven as tight as possible which results in fiberglass windows actually being less efficient than vinyl. Lastly, fiberglass tends to require more maintenance than vinyl, and is also much more expensive.

"Can I get a tax rebate for replacing my windows with more efficient ones?"
Yes, the government is still offering a small rebate for replacing your windows and doors with more efficient products. Some restrictions apply, check to see if you qualify by visiting the Federal Tax Credits for Consumer Energy Efficiency web page. If you do not qualify for the government rebate, it is still a wise idea to replace your windows and doors with more efficient options that will save you a lot of money in the long run. We can help you choose the right window or door for your house; for energy efficiency, and for your wallet.

"I want a high quality window, but can only afford the lower-priced options. What do you recommend?"
We offer high-priced, mid-priced, and low-priced windows. The advantage of Mountain Window Specialties is that we are able to sell all of our lines at competitive prices, so what you thought was out of reach, may be very realistic with us.

"Why should I replace my windows/doors?"
Replacing your windows and doors not only could help your home's efficiency, but also increase the look, raise the value, increase comfort, decrease exterior noise heard from inside, save your couches and carpet from fading, and improvement of re sale. Not to mention new products will operate better and be nice and new, making your life easier.

"When Do I need to replace my windows?"
If they are d ifficult to open or close.
If they are drafty, with air leaking through or around the window.
If you are experiencing excessive condensation or icing on the inside of the window panes.
If the windows rattle in the wind.
If the paint is chipping or peeling.
If your house is always too cold in winter, or too hot in the summer.
If outside noise is very easily heard inside the house.
If your couches and carpets have faded.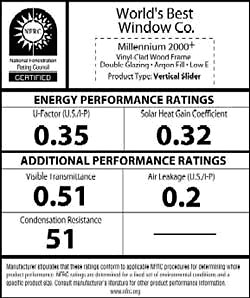 How do I determine the performance of a particular window?
The performance of a particular window is determined by the Performane Ratings.

The NFRC* performance rating label can be found on all ENERGY STAR qualified windows, doors, and skylights and provides performance ratings in five categories:
U-Factor measures the rate of heat transfer and tells you how well the window insulates. U-factor values generally range from 0.25 to 1.25 and are measured in Btu/h•ft²•°F. The lower the U-factor, the better the window insulates.
Solar Heat Gain Coefficient (SHGC) measures the fraction of solar energy transmitted and tells you how well the product blocks heat caused by sunlight. SHGC is measured on a scale of 0 to 1; values typically range from 0.25 to 0.80. The lower the SHGC, the less solar heat the window transmits.
Visible Transmittance (VT) measures the amount of light the window lets through. VT is measured on a scale of 0 to 1; values generally range from 0.20 to 0.80. The higher the VT, the more light you see.
Air Leakage (AL) measures the rate at which air passes through joints in the window. AL is measured in cubic feet of air passing through one square foot of window area per minute. The lower the AL value, the less air leakage. Most industry standards and building codes require an AL of 0.3 cf•m/ft².
Condensation Resistance measures how well the window resists water build-up. Condensation Resistance is scored on a scale from 0 to 100. The higher the condensation resistance factor, the less build-up the window allows.
*Information courtesy of energystar.gov and the NFRC (The National Fenestration Rating Council is the leader in energy performance rating and certification programs for fenestration products).