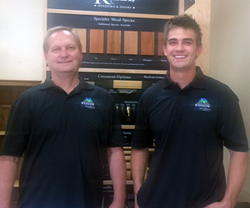 At Mountain Window Specialties, our commitment to letting your home express itself goes beyond just providing a wide selection of unique, custom options; our goal is to provide energy-efficient, highly functional and stylish window and specialty door products that add beauty and demonstrate your refined tastes.

Doors and windows are part of the architecture of your home and deserve as much attention in their selection as any custom feature.

Our drive to serve the exclusive, high-end builder market at a competitive price is based on putting customer service first, going beyond the ordinary to provide more than our customers ever imagined. Premium products, innovative designs, and choosing only the finest craftsmen has put us on pace to become the top distributor and installer of quality products in the Colorado region, ensuring customer's satisfaction and elevating function along with form.

From cottage to castle, there is every reason to rise above "ordinary".


ROD KINDSCHUH (Principal) ::


After moving to Colorado in 1978, Rod began working for a lumber yard selling windows and doors, and subsequently developed a reputation known with competitors and builders as a very respected leading salesman in the Denver area. He then worked for a large window company for seven years before deciding it was time to leave the corporate world to start his own company selling and distributing doors and windows. At Mountain Window Specialties Rod's goal has been to provide fantastic customer service, top-of-the-line and interesting products at competitive prices. The lasting relationships and success Rod has achieved, allowed him to weather the most recent recession and to continue to be known as one of the leading experts in the industry. Business aside, Rod has been married to his wife Kristi for 28 years, and they have two kids, Desarae a kindergarten teacher in Kremmling Colorado, and a son Tyler who proudly works for his father at Mountain Window Specialties.




TYLER KINDSCHUH ::


Tyler started in the window and door industry working for his father every summer and during breaks from school, where he obtained his construction management degree from Colorado State University. Since graduating, Tyler has been in charge of marketing, and the warehouse management, as well as doing installations, service work, and producing estimates. Tyler is certified by the EPA for lead based paint activities. He lives with his girlfriend Heidi in Northglenn Colorado. Tyler is an avid Rockies, Broncos, Nuggets, and Avalanche fan. He also loves everything Colorado; snowboarding, hiking, camping, and being outdoors.